FILL OUT THE FORM

WATCH THE WEBINAR & TAKE NOTES

IMPLEMENT WHAT
YOU LEARN

ACE THE GRE!
DEMYSTIFY THE GRE AND CRAFT A WINNING STUDY PLAN
The GRE stands between you and successful admission to your target graduate program. Fortunately, the GRE is a beatable test — and we'll show you how. As the great military strategist Sun Tzu said, "Know thy enemy." When it comes to the GRE, that means knowing exactly what's tested on it, how the exam is scored, the types of questions you'll encounter, and strategies for effectively answering them. In other words, you need a GRE game plan.

During this content-packed one-hour session, Dominate Test Prep's founder, Brett Ethridge, will lay out that ideal game plan for you as he covers:
The 3 interrelated components necessary to achieve a high score on the GRE

How to adopt the right mindset for test-day success

A powerful non-standard math strategy that will make tricky algebra questions a piece of cake for you

Tips for allocating your time effectively when preparing for the GRE
...and much more!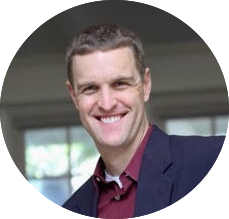 MEET THE PRESENTER
As the founder of Dominate Test Prep, Brett Ethridge has been teaching aspiring graduate school students how to dominate the GRE and GMAT for over a decade. Brett holds a BA in Public Policy from Duke University and an MA in International Finance from the University of Denver. He is a member of the Association of International Graduate Admissions Consultants (AIGAC) and has a passion for empowering students to pursue their dreams through higher education. He's an avid Duke basketball fan and competitive tennis player and lives with his family on a small farm in east Tennessee.