AFTER THIS WEBINAR YOU WILL BE ABLE TO:

CREATE AND COMMUNICATE CLEAR GOALS, BOTH ACADEMIC AND PROFESSIONAL

PROVE THAT YOU CAN DO THE WORK ONCE YOU GET ACCEPTED

DEMONSTRATE THAT YOU BELONG AT CHICAGO BOOTH
WHAT DOES IT TAKE TO EARN A SPOT AT CHICAGO BOOTH?
It's time to get serious about your MBA application plans. Will you be at your top-choice school next fall? Or will you be wishing you'd worked harder on your applications...and preparing for another attempt?

Applying to an elite program like Chicago Booth—which is one of the few programs that saw an increase in application volume last year—requires thoughtful preparation. You need to show that you're a great fit, and that you stand out in a crowded applicant pool.

To help you do all that, watch this webinar, Get Accepted to Chicago Booth. During the webinar, Accepted's founder and president, Linda Abraham, walks you through each step of the Chicago Booth MBA application and gives you the keys to application success. You'll learn a proven four-part strategy for approaching your application and, by the end of the webinar, you'll fully understand what the adcom is really looking for!

Watch now!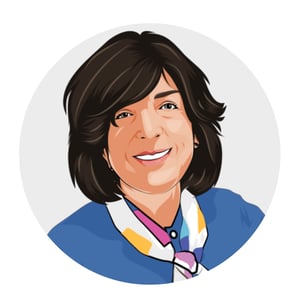 ABOUT THE PRESENTER
Linda Abraham, Founder & CEO at Accepted
Linda Abraham is founder and CEO of Accepted, the top-tier admissions consultancy that helps you unlock your competitive advantage. For more than 25 years, Linda and her highly credentialed, experienced team have helped thousands of business school applicants gain acceptance to top MBA programs in the U.S. and around the world.
She is also the co-founder of AIGAC, author of MBA Admission for Smarties and host of the graduate admissions podcast, Admissions Straight Talk.