IN THIS GUIDE YOU WILL LEARN:

LEARN WHAT CBS IS LOOKING FOR STRAIGHT FROM THE SOURCE

GET YOUR QUESTIONS ABOUT THE APPLICATION PROCESS ANSWERED

GAIN INVALUABLE KNOWLEDGE ON HOW TO STAND OUT IN YOUR APPLICATION

BE A STEP AHEAD OF THE COMPETITION WITH INSIDER KNOWLEDGE
DON'T YOU WISH YOU COULD HEAR APPLICATION ADVICE STRAIGHT FROM THE CBS DIRECTOR OF ADMISSIONS?

Well, now you can!
Accepted hosted an exclusive webinar for applicants applying to Columbia Business School so you can get the scoop directly from CBS Director of Admissions, Michael Robinson. Check out the recording to hear directly from Mr. Robinson on the latest happenings at CBS, what it takes to gain admission, and more! The applicant Q&As are particularly valuable.

You won't get this opportunity anywhere else. Watch the webinar now!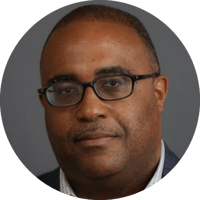 MEET THE PRESENTER
Michael Robinson moved to the U.S. from Jamaica as a teenager. Prior to his matriculation at Columbia Business School in August 2002, he was an entrepreneur and ran a music publicity firm (with clients such as the platinum-selling Grammy winner Shaggy) for seven years. He holds a B.B.A. from Baruch College and an MBA from Columbia Business School.
Today, Michael is a Director of Admission at Columbia Business School. He leads strategic efforts centered around diversity, equity, and inclusion, and spearheaded outreach endeavors to expand CBS's presence in Africa and Southeast Asia. Still a 1990s hip-hop enthusiast, Michael serves as mentor and informal adviser to women and young people of color.