DURING THIS WORKSHOP YOU WILL LEARN:

CRAFT ESSAYS THAT ARE IN SYNC WITH THE CRITERIA, MISSION, AND VALUES OF THE SCHOOL

MAKE A FIRST-RATE IMPRESSION WITH AN IMPACT-FILLED, ACHIEVEMENT-ORIENTED RESUME

TRANSLATE YOUR STATS INTO A COMPELLING NARRATIVE ABOUT YOU AS AN INDIVIDUAL

SUPERCHARGE YOUR CHANCES OF ACCEPTANCE AT YOUR CHOSEN PROGRAMS
Learn our proven 4-step strategy to a winning MBA application
MBA programs are deluged with more applications in R2 than in any other round--so how will you shine through and stand out in a crowded, competitive field? In this one-hour workshop, Accepted CEO Linda Abraham will share her "DARING" application strategy that has been a proven winner for thousands of aspiring MBAs. (You'll learn exactly what we mean during the workshop.)
Linda will show you all the vital ingredients of a strong R2 application, including how to prove that you meet the schools' rigorous criteria and can flourish academically and socially; understand and share their values and mission; and have a goal that requires an MBA from their school. You'll learn how to identify and write about experiences that prove your teamwork skills and leadership potential.
This is already a tall order, but even this is not enough. You'll also need to convince the adcom that you bring an authentic individuality, perspective, and diversity to the school, without sounding generic or cliched.
Watch this value-packed workshop with Linda, who has been helping applicants win acceptances at top MBA programs for 27 years. Her expertise will help you rise to the top of the competition through a compelling, substantive and strategic application.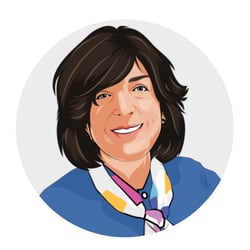 MEET THE PRESENTER
Linda Abraham is the founder and CEO of Accepted, the top-tier admissions consultancy that helps you unlock your competitive advantage.
For the last 25 years, Linda and her highly credentialed, experienced team have helped thousands of business school applicants gain acceptance to top MBA programs in the U.S. and around the world.
She is also the co-founder of AIGAC, the podcast host of Admissions Straight Talk, and co-author of MBA Admission for Smarties.