DURING THIS WEBINAR YOU WILL LEARN:

WHAT THE ADCOM SEEKS FROM APPLICANTS

STRATEGIC STEPS YOU MUST TAKE BEFORE AND DURING THE APPLICATION PROCESS

KEY ELEMENTS OF THE COLUMBIA APPLICATION AND HOW TO APPROACH THEM

HOW TO DEMONSTRATE YOUR FUTURE CONTRIBUTIONS TO COLUMBIA'S COMMUNITY
DO YOU WANT TO BE STUDYING AT COLUMBIA THIS TIME NEXT YEAR?
Whether you're focused on finance (like 37% of CBS grads) or interested in any of a truly dazzling array of opportunities (Entrepreneurship! Luxury retail! Consulting!), Columbia Business School is an exciting program in one of the world's most dynamic cities, and we understand why you'd like to be there.

Not surprisingly, as one of the top b-schools in the country, Columbia is also very selective. How can you show the adcom that you have what they're looking for?

Drawing on decades of admissions expertise, Accepted's founder, Linda Abraham, answered that very question during this webinar, Get Accepted to Columbia. During the webinar, Linda shared a strategic framework for application success. During this recording, you'll learn what CBS is looking for, how you can prove you're a great fit, and how you can stand out in a very crowded applicant pool. And because we know you're busy with work, applications, and life, the entire presentation is distilled into just one hour.

Watch this webinar now to get one step closer to your Columbia acceptance letter!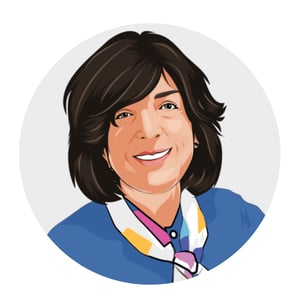 ABOUT THE PRESENTER
Linda Abraham, Founder & CEO at Accepted
Linda Abraham is founder and CEO of Accepted, the top-tier admissions consultancy that helps you unlock your competitive advantage. For more than 25 years, Linda and her highly credentialed, experienced team have helped thousands of business school applicants gain acceptance to top MBA programs in the U.S. and around the world.
She is also the co-founder of AIGAC, author of MBA Admission for Smarties and host of the graduate admissions podcast, Admissions Straight Talk.