DURING THIS MASTERCLASS YOU WILL LEARN:

APPROACH EACH PART OF INSEAD'S APPLICATION STRATEGICALLY

PROVE YOUR EXPERIENCES ALIGN WITH WHAT THE ADCOM IS LOOKING FOR

DEMONSTRATE HOW YOU'LL CONTRIBUTE TO THE INSEAD COMMUNITY

SHOWCASE YOUR STRENGTHS WHILE MITIGATING WEAKNESSES
LEARN HOW TO GET ACCEPTED TO "THE BUSINESS SCHOOL FOR THE WORLD"
If you aspire to a career in the world of global business, INSEAD is likely at the top of your list for potential MBA programs. But you're not alone; the competition for admission to this highly-regarded and historic program is fierce.
So, how can you make sure that you stand out within this talented pool of applicants? How can you frame your application to prove to the admissions committee that you can not only excel in their program, but go on to make a real impact in the international business community?
These are exactly the type of questions we addressed in our masterclass, Get Accepted to INSEAD. Our decades of experience in the industry have taught us valuable lessons that are guaranteed to give you a leg up on your application, and we're excited to share them with you.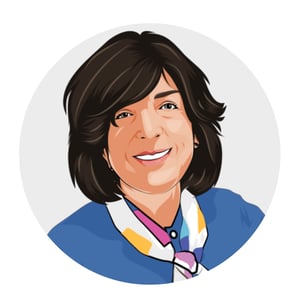 MEET THE PRESENTER
Linda Abraham is founder and CEO of Accepted, the top-tier admissions consultancy that helps you unlock your competitive advantage. For more than 25 years, Linda and her highly credentialed, experienced team have helped thousands of business school applicants gain acceptance to top MBA programs in the U.S. and around the world.
She is also the co-founder of AIGAC, author of MBA Admission for Smarties and host of the graduate admissions podcast, Admissions Straight Talk.