DURING THIS WEBINAR YOU WILL LEARN:

THE 4 STRATEGIC STEPS YOU NEED TO IMPRESS THE WHARTON ADCOM

HOW TO ANSWER WHARTON'S ESSAY QUESTIONS

HOW TO ACE WHARTON'S TEAM-BASED DISCUSSION (TBD)/INTERVIEW

HOW TO OPTIMIZE YOUR APPLICATION TO MAXIMIZE YOUR CHANCES OF ACCEPTANCE
LEARN HOW TO STAND OUT AT WHARTON!
Wharton is an iconic MBA program, and impressive stats alone won't be enough to secure your spot. You need to find a way to truly stand out from the thousands of other talented, qualified candidates. If Wharton is at the top of your MBA wish list, you've got your work cut out for you. That's a lot of pressure! We wanted to help relieve that pressure, which is why we created our webinar, Get Accepted to Wharton. During this one-hour webinar, Accepted founder and CEO Linda Abraham shared tips for formulating a smart strategy and being prepared for the unique elements of the Wharton application, all of which will be key to increasing your chances of acceptance.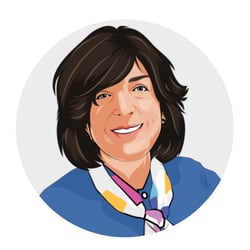 MEET THE PRESENTER
Linda Abraham is the founder and CEO of Accepted, the top-tier admissions consultancy that helps you unlock your competitive advantage.
For the last 25 years, Linda and her highly credentialed, experienced team have helped thousands of business school applicants gain acceptance to top MBA programs in the U.S. and around the world.
She is also the co-founder of AIGAC, the podcast host of Admissions Straight Talk, and co-author of MBA Admission for Smarties.