IN THIS WEBINAR YOU WILL LEARN:

HOW TO EVALUATE YOUR PROFILE

THE ROLE YOUR GPA AND GMAT PLAY IN YOUR APPLICATION

THE IMPORTANCE OF UNDERSTANDING AND CLARIFYING YOUR GOALS

HOW TO CREATE AN APPLICATION STRATEGY THAT HIGHLIGHTS YOUR STRENGTHS
WANT TO KNOW HOW YOU CAN GET ACCEPTED TO TOP MBA PROGRAMS EVEN IF YOU HAVE LOW STATS?
We have the answers you need.

Every year, hundreds of MBA applicants ask us whether their profile is competitive at the schools they're targeting. You need to know where you have a fighting chance before you spend your time, money, and energy applying. We understand that you have a lot riding on this decision!

Well, the good news is that just because your stats aren't as impressive as you'd like them to be, that doesn't mean you'll have to settle for a "safety" school.

After watching Get Accepted to Top MBA Programs with Low Stats, you will know how to mitigate those less-than-ideal numbers and secure an acceptance letter from your top-choice program.

Don't weather your application journey alone. Let us walk you through the process of creating an impressive application that will get you ACCEPTED.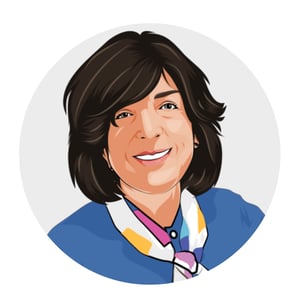 MEET THE PRESENTER:
Linda Abraham is founder and CEO of Accepted, the top-tier admissions consultancy that helps you unlock your competitive advantage. For the last 20 years, Linda and her highly credentialed, experienced team have helped thousands of business school applicants gain acceptance to top MBA programs in the U.S. and around the world.

She is also the co-founder of AIGAC, author of MBA Admission for Smarties and host of the graduate admissions podcast, Admissions Straight Talk.