IN THIS WEBINAR YOU WILL LEARN:

MYTHS AND FACTS ABOUT THE GMAT AND GRE

THE ROLE THESE TESTS PLAY IN YOUR APPLICATION

HOW TO DECIDE WHETHER TO RETAKE THE GMAT OR GRE

WHAT TO DO IF YOU CAN'T RAISE YOUR SCORE
YOU KNOW THE GMAT AND GRE ARE IMPORTANT. BUT HOW EXACTLY DO THOSE SCORES PLAY INTO YOUR APPLICATION SUCCESS?



Have you been wondering whether or not you should retake the GMAT or GRE? When you should cancel a score? Or even what to do if you can't raise your score?

During our webinar, The Impact of Your GMAT & GRE: A Critical Piece in Your MBA Application, Accepted's founder Linda Abraham uncovers myths and facts about these tests, shows how to view your scores from the adcom's perspective, and outlines steps you can take if you're unhappy with your score.

Watch this webinar and we'll demystify the GMAT and GRE with actionable advice you can take with you from your study sessions all the way to the testing site!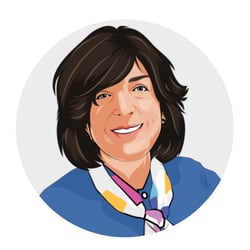 MEET THE PRESENTER
Linda Abraham is the founder and CEO of Accepted, the top-tier admissions consultancy that helps you unlock your competitive advantage.
For the last 24+ years, Linda and her highly credentialed, experienced team have helped thousands of business school applicants gain acceptance to top MBA programs in the U.S. and around the world.
She is also the co-founder of AIGAC, the podcast host of Admissions Straight Talk and co-author of MBA Admission for Smarties.