DURING THIS RECORDING YOU WILL LISTEN TO A DISCUSSION ABOUT:

HOW DEADLINES AND THE ADMISSIONS PROCESS HAVE BEEN IMPACTED BY COVID-19

WHAT WE KNOW AND DON'T YET KNOW FROM AN ADMISSIONS PERSPECTIVE

WHAT WE CAN AND SHOULD PLAN FOR NOW FOR THE UPCOMING APPLICATION SEASON

HOW TO MAKE THE BEST ADMISSIONS DECISION WITH YOUR CIRCUMSTANCES IN MIND
HAVE QUESTIONS ABOUT COVID-19 AND WHAT IT MEANS FOR YOUR BUSINESS SCHOOL DREAMS?

You likely have a lot of questions surrounding the global pandemic and all of the possible short- and long-term effects on your admissions and career goals. None of us can can predict the future in these uncertain times, but our MBA admissions experts wanted to help applicants like you make the right choice for their futures with a special Q&A session.

That's why we brought in Amanda Carlson, Assistant Dean of Admissions at Columbia Business School, to answer questions and provide guidance for MBA applicants in these ever-changing times.

Deadlines, guidelines, and requirements are in what seems like a constant state of flux. Don't walk through this confusing and uneasy time alone. Watch this recording and let us help you stay informed about how COVID-19 is impacting business school admissions so you can make the decision that's best for you.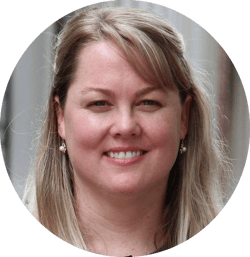 MEET THE EXPERT: AMANDA CARLSON
Amanda Carlson is the assistant dean of admissions at Columbia Business School. Prior to joining the Columbia team in 2002, she worked in campus recruitment for McKinsey & Company. Amanda holds an AB in religion from Princeton University, an MA in organizational psychology from Teacher's College at Columbia University, and an MBA from the EMBA Global-Asia program, Columbia Business School's partnership program with London Business School and the University of Hong Kong.

Upon graduation from the EMBA Global-Asia program, Amanda was awarded the Academic Excellence Award, given to the graduating student with the highest GPA in the graduating class, and the Distinguished Service Award, an award that recognizes one member of the graduating class, selected by his or her classmates, as deserving special recognition for contributions to the spirit and achievement of the class.