Determine your MBA goals and weave them into a compelling MBA goals essay.
Download our free guide, Why MBA, to learn how you can best answer the popular "Why MBA?" question.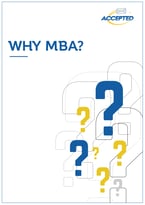 Why? The tips found in this guide will help you answer the important "Why MBA?" question for yourself, so you can then answer it for others in your MBA goals essay.
How? Easy. Sign up below and download your free copy.
Who? Cindy Tokumitsu, author of Why MBA, has helped thousands of MBA applicants define their goals and write successful MBA goals essays. Profit from her knowledge, experience, and skill.