DURING THE MASTERCLASS, YOU WILL LEARN:

WHAT THE ADCOMS ARE LOOKING FOR (ASIDE FROM GOOD STATS)

HOW TO DIVERT ATTENTION AWAY FROM WEAK SCORES

HOW TO LEVERAGE YOUR STRENGTHS TO COMPENSATE FOR LOW STATS

HOW TO EVALUATE YOUR PROFILE IN RELATION TO YOUR TARGET SCHOOLS
WANT TO KNOW HOW YOU CAN GET ACCEPTED TO MED SCHOOL EVEN IF YOU HAVE LOW STATS?
We have the answers you need.

Every year, hundreds of med school applicants ask us whether their profile is competitive at the schools they're targeting. You need to know where you have a fighting chance before you spend your time, money, and energy applying. We understand that you have a lot riding on this decision!

The good news is that just because your stats aren't as impressive as you'd like them to be, you don't have to settle for a "safety" school.

During this masterclass, Accepted admissions consultant Alicia Nimonkar—the former director of the UC Davis School of Medicine postbac program—breaks down how to handle those less-than-ideal numbers and secure that coveted acceptance letter from your dream program.

Don't weather your admissions journey alone. Watch this recording so you can understand the process of creating an impressive application that will get you accepted!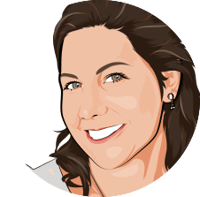 MEET THE PRESENTER
Before joining Accepted in 2012, Alicia worked for five years as Coordinator, Program Manager, and ultimately Acting Director at UC Davis' postbac program where she both evaluated applications and advised students how to successfully apply to med school and related programs.
She has worked extensively with medical school faculty and learning skills specialists to empower students to reach their academic goals. She has learned what is (and isn't) important to medical school selection committees when they evaluate an application.
Alicia holds a Master's degree in Composition and Rhetoric that further helps her assist applicants in developing strong writing and interviewing skills.