DURING THIS MASTERCLASS YOU WILL LEARN:

WHY SECONDARIES ARE SO IMPORTANT

HOW TO IDENTIFY THE MAIN TYPES OF SECONDARY QUESTIONS YOU'LL ENCOUNTER

KEY STRATEGIES FOR APPROACHING EACH TYPE OF QUESTION

WAYS TO STAND OUT IN YOUR APPLICATION
NOW THAT YOU'VE (HOPEFULLY) FINISHED UP YOUR PRIMARY APPLICATION, WHAT'S NEXT?
Time sure does fly – it seems like as soon as you've patted yourself on the back for a job well done on your primary application, it's time for another round of hard work on your secondaries. Once you begin, how can you take full, strategic advantage of your secondary applications to lift yourself above the crowd and soar confidently into your interviews?

We know that there is a lot of advice out there about the med school application process – and it can be overwhelming to be in the middle of it, wondering if it's good advice or not. That's why we created our strategy-oriented masterclass, How to Create Successful Secondary Applications.

During the presentation, medical school admissions expert Linda Abraham shares straightforward advice and the helpful tools you need to ace this crucial part of the med application process.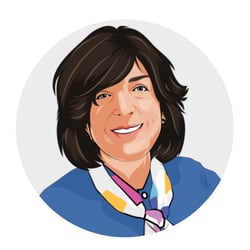 MEET THE PRESENTER
Linda Abraham is the founder and CEO of Accepted, the top-tier admissions consultancy that helps you unlock your competitive advantage.
For more than 25 years, Linda and her highly credentialed, experienced team have helped thousands of medical school applicants gain acceptance to top MD and DO programs.
She is also the co-founder of AIGAC and the podcast host of Admissions Straight Talk.