DURING THIS MASTERCLASS YOU WILL LEARN HOW TO:

CONVINCE THE ADCOM YOU'LL BRING SOMETHING UNIQUE TO THE PROGRAM

MAKE THE MOST OF YOUR STRENGTHS AND MITIGATE WEAKNESSES

DETERMINE WHAT TO INCLUDE IN YOUR APPLICATION TO IMPRESS THE ADCOM

DEMONSTRATE YOUR VISION FOR A CAREER IN MEDICINE
IN ORDER TO GET INTO MEDICAL SCHOOL, YOU NEED TO DO 5 THINGS
Getting into medical school is likely to be one of the hardest things you've ever done in your life. There are thousands of tiny elements required, and a misstep on any one of them could potentially keep you from getting into your dream program. That's why we created our masterclass, The 5-Part Framework for a Successful Medical School Application.

During the presentation, Accepted founder and CEO Linda Abraham walks through a detailed plan that will help you improve your application. Taking these steps can help ensure that the highly selective admissions committees that will be evaluating your application will remember your name—positively.

We know you're busy, so we fit everything into one content-packed hour. Set aside this small amount of time to guarantee that your application will make a big impact.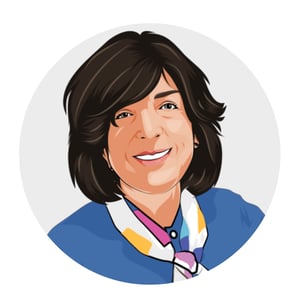 ABOUT THE PRESENTER
Linda Abraham is the founder and CEO of Accepted, the top-tier admissions consultancy that helps you unlock your competitive advantage.
For the last 25 years, Linda and her highly credentialed, experienced team have helped thousands of medical school applicants gain acceptance to top MD and DO programs.
She is also the co-founder of AIGAC and the podcast host of Admissions Straight Talk.