IN THIS WEBINAR YOU WILL LEARN:

HOW TO PICK YOURSELF UP AND MOVE FORWARD AFTER BEING REJECTED

THE 4 MOST COMMON REASONS CANDIDATES ARE REJECTED

HOW TO FIGURE OUT WHICH OF THOSE REASONS APPLIES TO YOU

STEPS TO TAKE TO MAKE SURE IT DOESN'T HAPPEN AGAIN
ARE YOU READY TO REAPPLY TO MEDICAL SCHOOL?
This webinar will help you take the next step! We've seen hundreds — if not thousands — of medical school applicants just like you get into medical school after being rejected once, twice, or even three times.

The reapplication process is complex and the stakes are high. The information in this webinar will guide you through your reapplication effort to ensure that the next time you apply to medical school will be your last time!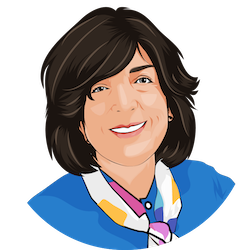 Meet the Presenter:
Linda Abraham is the founder and CEO of Accepted, the top-tier admissions consultancy that helps you unlock your competitive advantage.
For the last 20 years, Linda and her highly credentialed, experienced team have helped thousands of medical school applicants gain acceptance to top MD and DO programs.
She is also the co-founder of AIGAC and the podcast host of Admissions Straight Talk.